EALTHY, International House London and SLC are delighted to host a seminar and workshop on the Occupational English Test (OET).
The OET test of English for Healthcare Professionals is now being taken by hundreds of international doctors and nurses every month to demonstrate they have the right language levels to practise safely and effectively in an English-speaking environment.
Come and find out more about the OET – what it consists of, how to prepare for it and where to take it.
Hear from Cambridge University Hospitals (Addenbrooke's) about how their European nurses are finding their OET preparation programme.
Get inside the test by participating in Speaking test role plays.
Who should attend?
Healthcare providers
Healthcare recruitment companies
Medical English teaching organisations
Medical English teachers
ELT publishers
When is it?
Friday, May 18th, 1pm to 5pm
Where is it?
International House London,
16 Stukeley St, Covent Garden, London, WC2B 5LQ
What's happening?
An overview of the OET: background, objectives, recognition
A practical workshop: role plays in the OET Speaking test
OET Panel: Q&A with representatives from Cambridge University Hospitals, OET, International House London & SLC
Book your place
Buy tickets for this seminar now for only £15:

EALTHY members can attend for free. Contact us to register.
To become a member of EALTHY, please visit www.ealthy.com/membership/
Meet the Speakers

Simon Beeston
Simon has worked in education, learning and assessment since 1982. He has worked at Director level since 2001 in the City of London and at both the Universities of Oxford and Cambridge where he was also a Director of CBLA, the Division of Cambridge that owns 70% of the OET. He left Cambridge in July 2016 to work independently and is currently working for OET in the UK as their Stakeholder Director for UK & Ireland. Simon will give a clear and concise overview of the OET.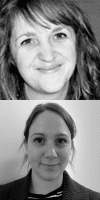 Bethan Edwards and Jo Langford
Bethan and Jo head SLC's Academic department. They led SLC's OET accreditation process – SLC are currently Europe's only accredited OET Premium Preparation Provider – and both design and teach OET courses. SLC currently prepare hundreds of nurses and doctors around the world for the OET. Bethan and Jo will demonstrate what candidates do in the role plays in the OET Speaking Test, so you can understand the challenges candidates face – and what you can do to support them.

Bronwyn Ramsay BHSci (Nsg), Dip MgMt, PG Cert Ed, Clinical Education Facilitator, Cambridge University Hospitals NHS Foundation Trust (CUH)
Bronwyn is a registered nurse and senior manager with over 30 years of international health experience. She focusses her time at CUH supporting European (EU) nurses to achieve their English qualification and clinical competencies in order to achieve their nursing registration. Bronwyn works in close partnership with candidates, their ward managers and SLC, their English language provider.
Bronwyn will be on our special panel discussion along with Eve Truszkowska, Head of Exams at OET, and Chris Moore, SLC's Managing Director. She can tell you how the OET training at Addenbrooke's is going from a Trust's perspective.