Online English language programmes for refugees
Language empowers. Language creates access, opportunity and possibility.
Language education matters. In a globalised world, knowing languages and using them effectively enables people to work and study in other countries, to experience and understand other cultures, to build and join networks, make new friendships and fall in love across borders.
These words are from our statement of purpose and for us, nothing highlights this truth more than the work we do with refugees in the UK.
We support refugee healthcare professionals by giving free access to our online medical English courses and by teaching them to pass the English language tests required to work in the UK.
We support refugees with little or no English by teaching them the language they need to find work and integrate into their communities.
Tuition takes place in SLC's online classrooms, so enabling our expert teachers to work with students around the country, many of whom cannot get to traditional classrooms because of childcare commitments or inadequate public transport, for example.
While the refugees we work with have incredibly different stories to tell of how they came to the UK, they are united in their wish to settle here, get to know their neighbours and contribute to their communities and the wider nation.
English for refugee healthcare professionals
We work in partnership with RefuAid to support doctors and nurses. We
Give free access to all online medical English courses
Give free access to all online OET and IELTS test preparation courses
Give free places on our online open group OET preparation for nurses programmes
Give at-cost tailored online OET and IELTS tutoring to closed groups of doctors
Read the case study 'Refugee doctors achieve GMC English language requirements'
"I want to thank Ms. Jo Langford our SLC teacher for the online course she conducted. The online course was convenient for me in terms of timing, personal requirement, and content. Ms. Langford worked hard to meet our individual exam needs which eventually led to me passing the exam with high scores. SLC online practice materials covered everything we needed in the exam." 
Basil, student, passed OET Medicine 1st time
"RefuAid have found SLC one of the best language providers to support some of the
refugee healthcare professionals on our programmes with their preparation for the
OET exam. The classes are designed after an initial assessment with the students to
ensure the right support is provided throughout the course. These online courses are
ideal for our students who are based across the country to come together under one
platform not only to benefit from the course but form a sense of community to support each other while reestablishing their lives here in the UK. The OET trained tutors and Academic Manager Bethan consistently provide in-depth feedback to students and their RefuAid caseworker. Additionally, students have the opportunity of accessing additional resources to support their studies. To date, 11 of the refugee doctors who have attended classes have now passed their OET and moved onto their requalification exams, and many more will be taking their OET exam in the next few months."
Mohib Ullah, Language Lead UK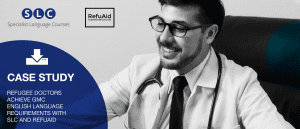 English for employability
We work in partnership with Maximpact to develop the English of refugees with little or no English so they can integrate into local communities and enter the workforce. We
Give at-cost tailored online lessons to closed groups of refugees, from absolute beginner to elementary to intermediate level
Develop bespoke English language curricula – including essential literacy, English for life skills, English for the workplace, CV writing and interview skills
Develop bespoke assessment services – delivered pre, during and post-course
Maximpact provide excellent pathways to work, including job applications and interviews with local employers.
As a result, graduates from the programme are now successfully working in hospitality, retail and care.
Most of the things I love about my teacher, the way the lesson is explained makes us understand the lesson in more than one way and it also makes us feel like we are all one family. I really like this because it is comfortable because I live far away from the college as I have young children and this class allows me to learn the English language and I am happy with that.
Reem, course participant
We have been very satisfied with the exceptional service provided by SLC, the flexibility of the tutors to deal with the unpredictable, whilst maintaining the high standards which SLC has built an outstanding reputation on delivering. Maximpact looks forward to further ongoing collaborations with SLC.
Caroline Kennedy, Senior Consultant, Maximpact
Download the case study