Today's global healthcare workforce is multi-national and multi-lingual. English is the lingua franca, and non-English speaking healthcare professionals, from consultants to carers, need to get their Medical English up to speed in order to deliver the safe and effective care demanded of them.
Medical conversations are varied and important – with colleagues, with patients, and with their families and friends. The healthcare environment can be fast-paced, noisy and high risk. Mistakes can be made with serious consequences.
Meeting these critical communication needs requires excellent language skills. And not general English skills, but the language specific to healthcare – Medical English.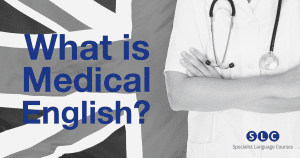 Medical English is Different
Medical English is not the kind of English you learn at school. It has its own language, structure and conventions. Medical English is part-technical, part-academic, and part-everyday. It has a wide variety of slang, acronyms, colloquialisms that those outside the profession find incomprehensible. It exists in highly-charged interactions.
On any given day, for example, a nurse may have to reassure, to explain, to examine, to give bad news, to calm the upset, to handle the confused, to comfort friends and family.
With colleagues, they give accurate handovers, create detailed care plans, explain incidents and near misses, and participate in multi-disciplinary team meetings.
They have to listen carefully, to understand accents, the social and cultural contexts of their patients, and then to respond appropriately and meaningfully.
How to Design Medical English Courses
Teaching such a range of language set in very context-specific situations to professionals is a tough call, but Medical English courses need to reflect this – whether it be an elementary level course for HCAs to or a much more advanced course for specialist doctors.
General English courses typically start with carefully scaffolded sets of grammar, vocabulary, language skills and functions, which are then contextualised so they make sense. With Medical English, it's the other way round. Context is everything. Grammar, vocabulary, skills work and functional expressions are determined by the context. In this way, Medical English is situation based, and the language is practical and hands on.
Medical English course design and delivery therefore needs to follow this principle, whether it be online self-study, tutor-led classroom lessons, or combinations of the two. Course creators also need to focus on the language objectives at a times – Medical English courses are designed not to teach medical professionals how to give better care, but how to practise successfully in English.
Because of the focus on both context and language, it's vital that both medical and language experts are involved in developing relevant curricula and methodologies. Content needs to be relevant to learners and delivered in such a way that they are able to learn and use it successfully. Only in this way can the core Medical English objectives of achieving safe and effective practice be reached.